Wednesday, January 19, 2005
More postcards from Afghanistan
Major John Tammes of Task Force Eagle at the Bagram Air Base in Afghanistan, better known as "Instapundit's Afghanistan photo correspondent" reports exclusively for Chrenkoff:
I have been both the Executive Officer and the Civil-Military Operations Officer for the base here at Bagram. I have noticed over the past 10 months, that all of our Humanitarian Aid ("HA") missions in our neighborhood have been done with privately donated items. This is significant for a couple of reasons, in my opinion. First, we have had a sustained outpouring of generosity from the folks back home that predates my deployment here and will continue after I leave here. Second, we have not had to spend any time or funds trying to gather what we need to assist some of the local communities here.

We have been running HA to 4 to 6 villages a week lately, and as fast as we take the clothing, blankets, winter jackets, gloves, hats, mittens, hygiene items, and school supplies out, we have been getting even more in donations. It is more than a bit humbling to witness this. I wish there was some way that people at home could understand what a great thing all these churches, civic groups, schools, clubs, fraternal organizations (the Kiwanas from Pennsylvania donated $42,000 that built a school at Qal'eh-ye Nasro for example!) and individuals have done.

Here is an example - this is a picture of one of our HA drops in December 2004, at the village of Kaluta, in Kapisa Province. The boxes are full of clothing, winter jackets, mittens and gloves, food and blankets. Every item you see there was donated by families and friends of the Soldiers, Marines and Airmen that also came along as security and helped load/unload it all.

I have a bit of an infatuation with the city of Charikar. It is the capital of Parwan Province and is about 8-9 km from our base. It has a kind of optimistic feel to it. Here's a couple of photos of around town:

The older fellow's shop is a fairly good example of the small variety stores you find all over.

Charikar-made knives have a good, "regional" reputation. Note the brass knuckles for sale as well, heh heh.

The traditional "brick-lined-hole-in-the-floor-bread-oven" is still everywhere. The bread is pretty good, and cheap too.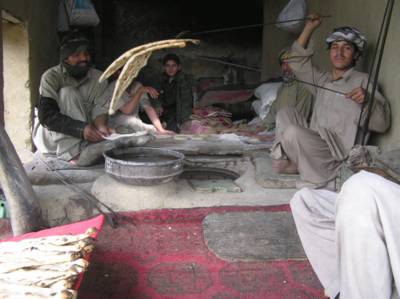 |